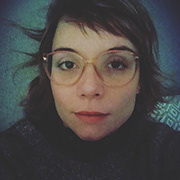 Graphic & Visual Designer
I am a passionate graphic and visual designer, with work experience in project management and production. I work with both print/digital design and clients are usually from online educational publishing, e-commerce, fashion and lifestyle. In print my key skills is in art direction and branding for catalogs, brochures, posters, and flyers. In digital media my expertise is in websites, social media, online advertising, motion graphics and video.
As a creative professional and as a producer, I believe success in visual communication can be can be achieved through appealing aesthetics and proven functionality. My goal is to satisfy not only the client, but also the end-user. My work is detail oriented and consists of following and maintaining brand values, thriving towards creativity. I am a natural problem solver and instigated by creating and producing quality and significative work.
With an undergraduate degree in advertising and a masters in visual design, I have lived and worked in Rio de Janeiro, São Paulo, LA, Milan and London. I speak English, Spanish, Portuguese and Italian, and am now learning Catalan.

Living in Barcelona and interested in new projects and opportunities.