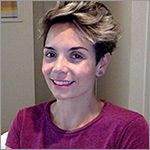 Graphic | Visual Designer | Producer
Passionate communicator focusing on graphic and visual design, with experience in project management and production. Works both with print and web, but enjoys most pushing pixels. Clients mainly from digital educational publishing, e-commerce, fashion and lifestyle. Has worked as a freelancer and also as an employee for studios, production houses, agencies and corporate businesses. 
As a creative professional and as a producer, I believe when a piece of work combines appealing aesthetics with proven functionality, significant success and value can be achieved through effective visual communication.  My goal is to satisfy not only the client, but also the end-user. My work always consists of following and maintaining brand values, but thrives towards creativity and quality. 
Based in Barcelona and interested in new projects and opportunities.
・Art Direction / Graphic Design / Branding
・Understanding of UX / Front-End
・Digital Production / Project Management
・Internet / E-commerce
・Online Advertising / Social Media
・Motion Graphics / Video