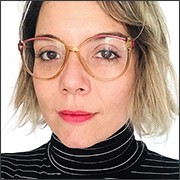 Visual Design | Art Direction | Project Management
Hello, I'm Flavia, a passionate communications professional with multidisciplinary experience in visual design and digital project management. As a graphic designer, art director and project manager I have collaborated and held positions in studios, agencies and companies from industries such as online fashion, digital education and property marketing.

I'm an enthusiastic creative designer and a productive hands-on manager who loves to connect people and ideas, and brainstorm concepts and solutions. I'm used to working independently and also in design, marketing (B2C and B2B) and with IT teams. 
My work may consist of creating a brands identity and guidelines, designing a website or creating advertising and marketing collateral, as well as managing digital campaigns, projects and platforms. I'm always aware of the product's communication strategy and process, ensuring that the adequate message, service and experience are delivered to the client and to the end user. I'm tech savvy and updated on new media, online trends and technological innovations.

Multilingual, speaking native English and Portuguese, and fluent Spanish and Italian. Living and working in Barcelona and always interested in new projects and opportunities.
....................................................................................................
Graphic & Editorial Design 
....................................................................................................
"I worked with Flavia for a little over a year and I highly recommend her. She has impeccable work ethic (a very important characteristic because the job was remote) and the quality of her work is wonderful. She takes the time to really understand the clients point of view and what their goals are. She also proactively seeks feedback to ensure her work is hitting the mark. She's a gem to work with!"
  - 
Deborah (Gibson) Mayen - Marketing and Communications Manager - Latin America - at Britannica Digital Learning
"Flavia has a really wide base of international experience across design, web-design, motion-graphics and development roles - plus she's bilingual and a great team worker" - 
Sara Wright - Lead Product Designer
"Flavia is an enthusiastic designer with a great eye for detail. Her design skills go from concept to production including a wide range of design programs but specially video production. She not only follows a brief but is always also keen to improve it, even creating guidelines if these don't exist! A great asset to any design team!"

  - 
Maria Blasi - Founder / Operations Director - at The Two Marias
"Flavia es un buen fichaje como miembro de un equipo creativo. Con perfil ambivalente puede ejecutar tanto animaciones como diseños estáticos, basados en buenas ideas que añaden valor al proyecto. Demuestra un gran esfuerzo por superar retos o dificultades y siempre esta dispuesta a aprender más. La alegría con la que afronta el día a día añade dinamismo a la productividad- Me alegro mucho de poder haber trabajado con ella." 
-- 
Maria Perez - Product Manager